Hey everybody! If you are anything like me, you started the new year off strong and motivated to drop those extra pounds. But… somewhere around mid-March things slacked off a bit, and flash forward to a few flips of the pages of the calendar – and it's almost swim suit season! Well don't panic! Here are a few tips that I use to get my body "snatched" into shape and ready for the Summer!
So take a sip of your cool and refreshing Green Tea Detox Cooler, and let's get this Summer Snatchback party started!
5 Tips to Get Snatched for Summer
1. Drink Water!
I know, I know – we hear this one all the time, but it's true! I drink between 75-90 oz. of water each day and I hit the water bottle as soon as I wake up! Drinking water first thing in the morning helps to release toxins from your body and aids in your digestion throughout the day. Want to know my secret to staying hydrated all day long? I spruce up my daily dose with lots of lemon juice and cucumber slices –this combo helps with weight loss and gives a boost to my energy on those really long days. And when I'm craving a little something sweeter to drink, I add smashed grapes! If I drink it fast enough, it almost makes me feel like I have turned water into wine! See my cute water bottle I picked up from Amazon (not sponsored!) – it'll make it easier for you to drink water all day long too!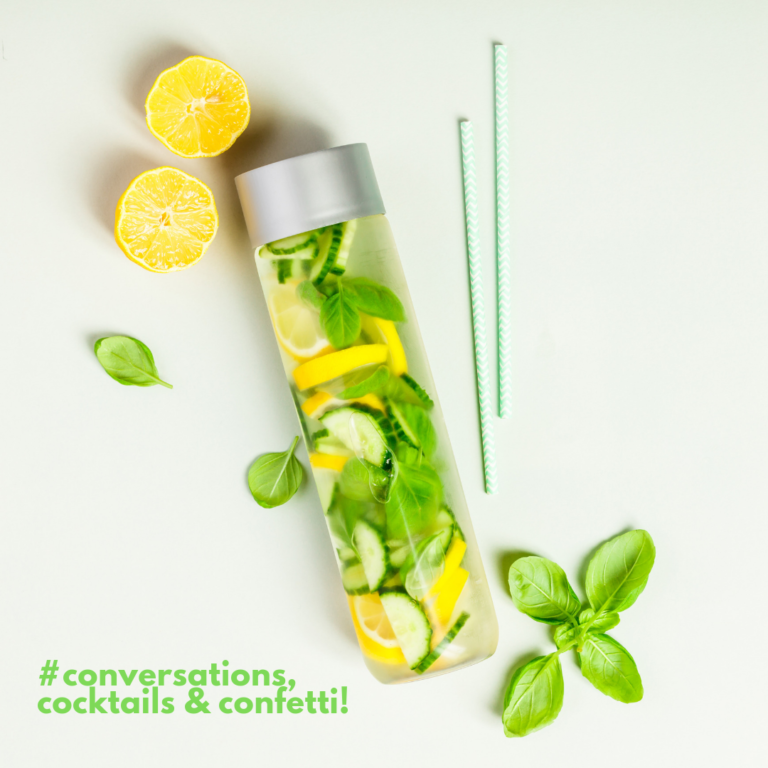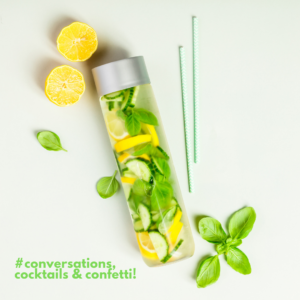 2. Eat Your Veggies!
Sure we've all heard of cutting carbs, eating enough protein and monitoring the good fats in our diet, but are you eating enough vegetables? Turns out: I was not! It wasn't until I sought the advice of a nutritionist and recorded my daily food intake that I realized that I was hardly getting enough vitamins and nutrients through my vegetables at all. Now – I make sure I have a salad with every meal, and yes, I even have a salad for breakfast! Ever start your day with an arugula salad tossed in a champagne vinaigrette alongside a veggie egg white omelet?  You don't know what you are missing!  Having a salad loaded with dark, leafy greens like kale and spinach coupled with fresh cucumbers, peppers, and squash – makes for a great meal any time of the day! Not in the mood for salad? Two easy ways I sneak in an extra serving of vegetables is to blend (not juice) them for a smoothie, or simmer a bunch of vegetables in a pot for soup or chili. Any way you slice them and eat them, vegetables are a must when looking to shed some extra pounds. Just remember to go light on the dressing, and sorry ya'll French fries don't count in this case!
3. Slow Down, and Fast!
Fasting is not for everyone, but I do it from time to time as a compliment to my daily diet routine. There are lots of benefits to fasting for short periods of time such as weight loss and increased fat burning potential; and there are lots of plans and apps that can help you find the right system of "intermittent fasting" that works for you. During your fasting period, be sure to stay hydrated by drinking lots of water, or tea (or coffee), but hold the sugar or milk! Drinking lots of sugar-free liquids can help to curb your appetite without the sneaky sugars disrupting your fast. Fasting alone does not cause any health problems, however, if you have any health issues such as diabetes or heart disease or are pregnant, be sure to discuss your plans with your doctor first so that you can find the fast that is safest for you!
4. Workout, On the Go!
I've done the personal trainer thing, and the going-to-the-gym thing – but with my busy schedule, I never felt like I was getting my money's worth. Seems like I could never find a rhythm with either one that could fit seamlessly into my daily routine. Luckily, I've found a solution that works great for me – workout apps! I can strike up a workout just about anywhere, even at the gate in the airport during a lengthy layover (you'd be surprised how these apps can help you sneak in a workout almost anywhere!) I can work out anytime, several times a day if I choose, and I have a variety of classes/instructors to choose from right from my phone or tablet! For me, workout apps are a more cost effective solution than traditional gym memberships, and have proven to be convenient time saver. If you've never tried them, check out a free trial of any of the many apps out there – and start working out on the go right along with me!
5. Sleeping Beauty!
Going to bed at night sounds so simple right? Then why is so hard to get it done? Well, when I learned that YOU BURN CALORIES IN YOUR SLEEP, I immediately went night night! Did you know that depriving yourself of much needed sleep can produce hormones in your body that increase your hunger levels and can lead to overeating? Plus, when you get your Zzz's you have more energy to power through your workout and burn even more calories by the end of the day. Well now you know – so set your alarm for bedtime and get your beauty rest – I guarantee your body will thank you!
What I'm Celebrating!
I'm celebrating staying healthy and fit for Summer! See my Stories on IG!