Print Options:
Bourbon Sweet Potato Bread Pudding
Yields
12 Servings
Prep Time30 mins
Cook Time1 hr
Total Time1 hr 30 mins
There's Bourbon in there ya'll! Bread pudding is one of my favorite desserts, and for me nothing says love better than my sweet, warm Bourbon Sweet Potato Bread Pudding! It's the perfect dessert to share for a Sunday morning brunch, or to relax and enjoy on a lazy Sunday afternoon. I shared this recipe with the audience at The Dish On Oz – and get ready to hear the mmmm's and ahhhh's from your family & friends when you share it with them! This is comfort food at its finest! Enjoy! *Add golden raisins, dried cranberries, diced mango, walnuts or pecans to give your bread pudding – that little "something extra" and even more flair!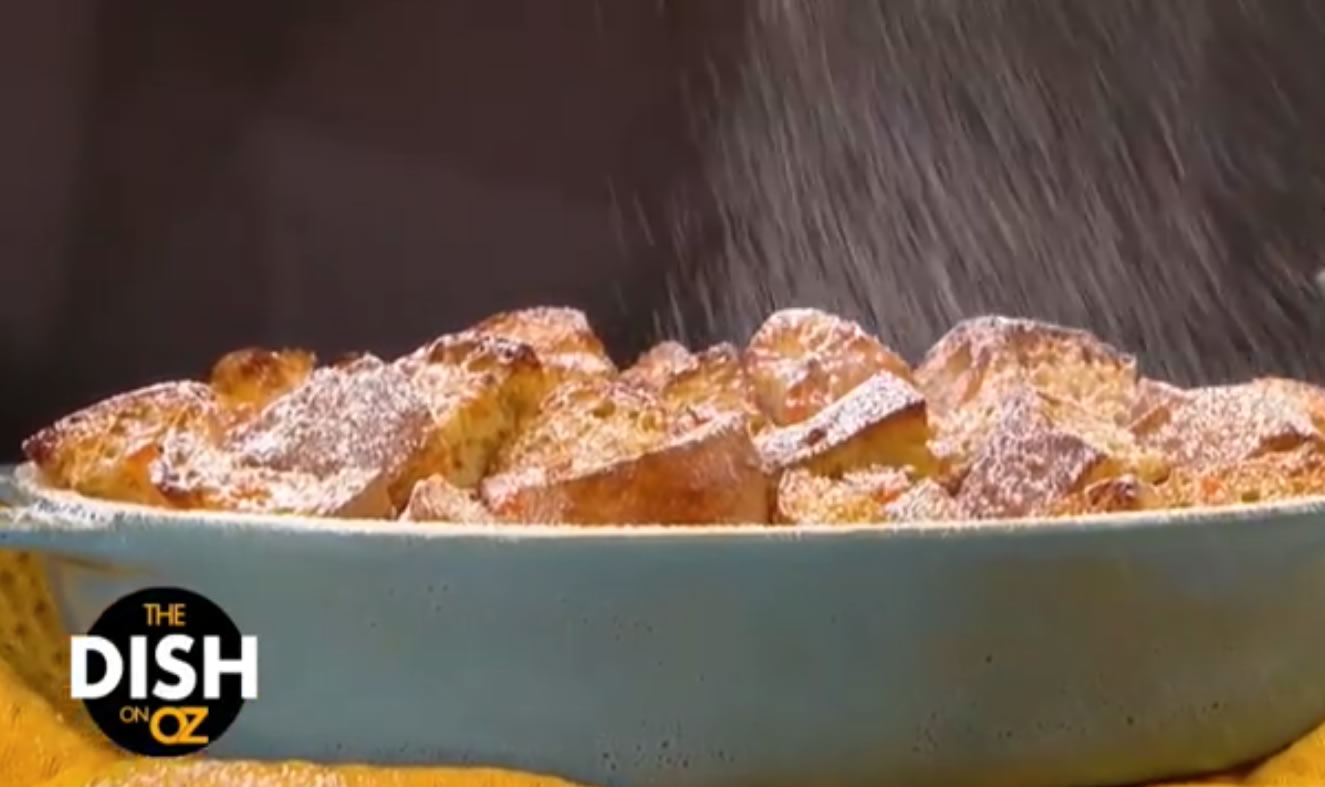 Ingredients (Bread Pudding)
2-3 cups diced sweet potatoes
1
can (12 oz) evaporated milk
¼
tsp
fresh grated nutmeg
8
cups
cubed french bread
Ingredients (Vanilla Bourbon Sauce)
1
cup melted vanilla ice cream
Directions
2
Grease 9x13 baking dish with cooking spray and set aside.
3
Place diced sweet potatoes in microwave safe container.
4
Cover with plastic wrap and heat for 6-8 minutes or until fork tender.
5
Roughly smash sweet potatoes and set aside to cool slightly.
7
Add bread cubes to bowl and mix until bread is completely covered with liquid.
8
Fold in sweet potatoes. Soak for 20-30 minutes.
9
Pour mixture into baking dish.
10
Bake for 40 minutes to an hour until crust is golden and pudding is set.
11
Set aside to cool slightly before cutting.
12
Mix melted ice cream and bourbon and drizzle over bread pudding to serve.
Nutrition Facts
Serving Size 1 piece
Servings 12